ARCS EN CIEL
MOUNTAIN ACTIVITIES
River guides

White water rafting and swimming
www.coureurs-rivieres.com
We invite you, we advise you, we suggest the best of the valley. That is to say the full descent of the Haute-Isere by rafting from Bourg-Saint-Maurice to Centron. Or in hydrospeed or canoraft !


All the fun of hurtling down the Isere in a raft can be had every day - whether the sun is shining or the rain is pouring!
Conditions:
In order to take part in white water sports you need to be in good health and be able to swim and go under water.
Rates include:
• Having professional guides with a state diploma organise the activity.
• The use of equipment: raft, hydros peed float, canoe-raft, neoprene shoes, 5mm neoprene wetsuit, neoprene jacket in bad weather, life jacket, helmet and paddle
What you need to bring:
Swimwear, a chain or cord for your glasses if needed.
For group rates, family rates, courses, rafting on the Doron at Bozel and the Dora Baltea: Contact us !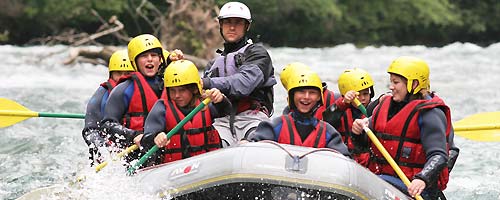 ---
High mountain guides
Canyoning
If you like nature and you like water running through beautiful countryside, then let us introduce you to canyoning. After a short walk uphill through the woods, dive into wonderfully clear water. You have just begun two hours of making your way down by rope, on toboggans and as much jumping as you like. In short, this is a fun half day not to be missed!
Via ferrata
Vertiginous treks right up the rock face. Don't worry; routes are fitted with special equipment to ensure you can enjoy your climb in safety: ladders and cables, monkey bridges, zip wires and walkways open this up to anyone from 7 to 77. Come along and experience unforgettable sensations.
Mountaineering
Discover the most beautiful summits of the Vanoise along snowy, rocky or mixed routes with the Guide des Arcs guides. We can also guide you up to the summits of mountains in the Mont Blanc, Grand Paradis and Oisans ranges.
Trekking
Set off and explore the most beautiful landscape the Haute Tarentaise has to offer in complete peace of mind.
Our mountain guides are here to share their experience and offer you trips of every level in total security.
Guides des Arcs .com
Discover all the activities these lovers of mountain adventures have to offer by visiting the website of our high mountain guide friends at www.guidesdesarcs.com
---